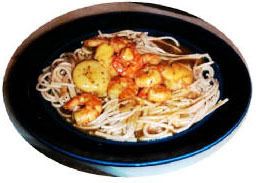 When his $15.95 entree of Shrimp and Scallop Verdura had only 5 shrimp and 5 scallops, 54 year old Ralph Paul refused to pay the entire bill citing a "code of honor" that prevented him from doing so. He offered to pay a partial portion of the bill. When the restaurant, Angellino's in Palm Harbor, FL, refused to compromise Paul walked out.
Sheriffs were sent after him and he was subsequently charged with misdemeanor fraud. Instead of just paying the bill, Paul hired a NYC lawyer (said to charge $500/hr) and went before a jury.
"...After nearly seven hours of legal wrangling, a jury of six found him innocent, saying he had at least offered to pay part of the bill.
Paul wouldn't say what his legal bill ran to, but said he was pleased regardless.
"It would have been worth it either way for me," he said. "I got to have my day in court." (
source
)
Obviously the man isn't cheap, so I guess it was a matter of principle. What I want to know is if the restaurant has added more seafood to the dish...