Please add important races in your area in the comments and keep us updated...
Rick Santorum VS. Bob Casey JUNIOR
: (U.S. Senate)
A recent poll showed that 47% of Pennsylvanians that are voting for Casey think they are voting for his deceased father... Bob Casey JUNIOR (Hello uni-brow!) has been
heavily
funded by JOHN KERRY. Casey has an abysmal work ethic...I guess that makes him perfect for Congress.
Peter RAJ Bhakta VS. Allyson Schwartz
: (U.S. House of Representatives -13th District)
Swartz was handpicked by PA Governor Ed Rendell, loved by the unions and
heavily
financed by NOW, NARAL and Planned Parenthood. What some may not remember is before Schwartz was a Representative she founded and ran the Elizabeth Blackwell Abortion clinic in Philly for 10+ years. The same clinic that had numerous lawsuits for botched abortions that rendered the women barren. She looks like an abortionist...if there was "a look" for that sort of thing.
Lynn Swann VS. Ed Rendell (aka Fast Eddie)
: (Pennsylvania Governor)
Swann could have won this, but his campaign team should be shot. They blew what could have been the upset of all time... Rendell signed the infamous middle-of-the-night pay raise and then defended its legality. He wants all internet goods and services taxed and IS AGAINST stronger work requirements for able-bodied welfare recipients... But the fact that he has a 100% approval by the labor unions should tell you all you need to know. Swann, you should have voted in an election or two and hired me to run your campaign... Why haven't we heard a peep from Rendell's Lt. Gov. Katherine baker Knoll...remember her? The one that crashed a Marine funeral where the family made it clear she wasn't welcome to campaign for Kerry?!
George Kenney VS. Brendan Boyle
: (Pennsylvania House of Representatives)
(This race is local, but I have a personal reason for wanting Boyle to lose big) Boyle looks about 12 (I think he's 28). His commercials are full of lies -blatant lies, not just Clintonian lies. I have seen hundreds of Kenney signs and only a few for Boyle...
Mike Fitzpatrick VS. Patrick Murphy
: (U.S. House of representatives -8th District)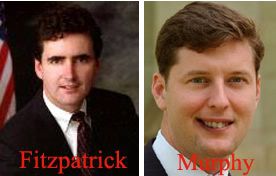 Fitzpatrick was the author of the "Deleting Online Predators Act of 2006" and can't be vilified that much because not only did he have McCain stumping for him, but he was the only Republican endorsed by the very liberal Sierra Club. Murphy is younger than me (I never vote for anyone younger than me) and did serve with the 82nd Airborne in Iraq, but he's allied himself with the wrong party.
Diane Irey VS. John Murtha
: (U.S. House of representatives -12th district)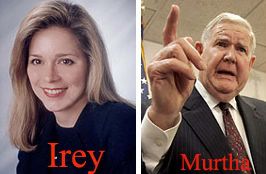 Irey was just endorsed by Rolling Thunder (the group responsible for blocking the Fred Phelps freaks when they invade military funerals). And need we say anything about "our troops are murderers" Murtha?
Also:
Jim Gerlach
vs. the very liberal
Lois Murphy
and
Curt Weldon
vs.
Joe Sestak
.
(*I thought they said the Dems were running better looking candidates this election cycle...?! obviously not in PA...)
I'll also be watching the
Stem Cell/Cloning Proposition in Missouri
(PROP 2) and the
Parental Notification Proposition in California
(PROP 85).