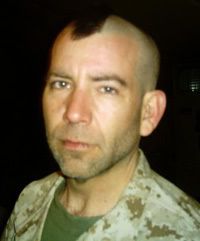 You wouldn't believe how hard it was for me to locate a copy of November's maxim Magazine...
At Rite Aid:
Counter girl: "I'll be honest, the woman that stocks the magazines is short, fat and ugly...if any have pretty girls on the covers, she sends them back."
I SWEAR that happened. Actually, could I even make that up...? Anyway, after 3 stops I finally got the last copy at 7-Eleven.
I wanted this magazine because
Pat Dollard
has a three page article in it. The article covers his Hollywood past, his switch from liberalism and a snippet of his experiences in Iraq. Here's a tease:
"...I could give two fucks about WMDs. There were really much more important reasons to topple Saddam--terrorism being one of them. The root causes of terrorism are the lack of capitalism, the lack of democracy, and the lack of modern education. What has stood in the way of those things has primarily been the regimes of Iraq, Iran and Syria. We just got one of them out of the way..." (-Pat Dollard, Maxim Magazine, November 2006)
I was also pleased to see that Miss Maxim Worldwide 2006 has some meat on her bones and some junk in the trunk! Good for them.
And, last but not least, I came across something and thought of many of you...
Maxim has a "Beat this Caption" contest --and I *know* many of you can rise to the occasion. If you submit your answers
here
(after you leave them in the comments here of course) you can win a $1,200 Oris Diver's watch...
Their Caption: "No matter how hard you try, war is still hell."