I hope all the veterans out there have headed the request of the VA and are
wearing your medals today
--especially the Vietnam vets that were never adequately thanked for their service...
I spent most of last night reading through Medal of Honor citations. It was incredibly hard to choose just a few to share, but here are a few of the awe inspiring stories I came across:
World War II
Remembering Medal of Honor recipient:
Harold Christ Agerholm
Private First Class, 4th Battalion, 10th Marines, 2d Marine Division
On July 7, 1944 in Saipan, Marianas Islands, under heavy Japanese attack, Pfc. Agerholm located an abandoned ambulance jeep and "repeatedly made extremely perilous trips
under heavy rifle and mortar fire and single-handedly loaded and evacuated approximately 45 casualties, working tirelessly and with utter disregard for his own safety during a grueling period of more than 3 hours
. Despite intense, persistent enemy fire, he ran out to aid 2 men whom he believed to be wounded marines but was himself mortally wounded by a Japanese sniper while carrying out his hazardous mission. Pfc. Agerholm's brilliant initiative, great personal valor and self-sacrificing efforts in the face of almost certain death reflect the highest credit upon himself and the U.S. Naval Service. He gallantly gave his life for his country."
Korean War
Medal of Honor Recipient:
John W. Collier
Corporal, U.S. Army, Company C, 27th Infantry Regiment
"Cpl. Collier, despite heavy enemy fire and grenade barrages, moved to an exposed position ahead of his comrades, assaulted and destroyed the machine gun nest, killing at least 4 enemy soldiers. As he returned down the rocky, fire-swept hill and joined his squad, an enemy grenade landed in their midst.
Shouting a warning to his comrades, he, selflessly and unhesitatingly, threw himself upon the grenade and smothered its explosion with his body
. This intrepid action saved his comrades from death or injury."
Vietnam War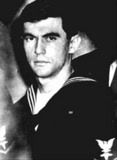 Medal of Honor Recipient:
Wayne Maurice Caron
Hospital Corpsman Third Class, U.S. Navy, Headquarters and Service Company, 3d Battalion, 7th Marines, 1st Marine Division (Rein), FMF.
"While on a sweep through an open rice field HC3c. Caron's unit started receiving enemy small arms fire. Upon seeing 2 marine casualties fall, he immediately ran forward to render first aid, but found that they were dead. At this time, the platoon was taken under intense small-arms and automatic weapons fire, sustaining additional casualties. As he moved to the aid of his wounded comrades, HC3c. Caron was hit in the arm by enemy fire. Although knocked to the ground, he regained his feet and continued to the injured marines. He rendered medical assistance to the first marine he reached, who was grievously wounded, and undoubtedly was instrumental in saving the man's life. HC3c. Caron then ran toward the second wounded marine, but was again hit by enemy fire, this time in the leg. Nonetheless, he crawled the remaining distance and provided medical aid for this severely wounded man. HC3c. Caron started to make his way to yet another injured comrade, when he was again struck by enemy small-arms fire. Courageously and with unbelievable determination, HC3c. Caron continued his attempt to reach the third marine until he was killed by an enemy rocket round."
Operation Iraqi Freedom
Medal of Honor Recipient:
Sgt. 1st Class Paul Ray Smith
B Company, 11th Engineer Battalion, 3rd Infantry Division, United States Army
"Sergeant First Class Smith was engaged in the construction of a prisoner of war holding area when his Task Force was violently attacked by a company-sized enemy force. Realizing the vulnerability of over 100 fellow soldiers, Sergeant First Class Smith quickly organized a hasty defense consisting of two platoons of soldiers, one Bradley Fighting Vehicle and three armored personnel carriers. As the fight developed, Sergeant First Class Smith braved hostile enemy fire to personally engage the enemy with hand grenades and anti-tank weapons, and organized the evacuation of three wounded soldiers from an armored personnel carrier struck by a rocket propelled grenade and a 60mm mortar round. Fearing the enemy would overrun their defenses, Sergeant First Class Smith moved under withering enemy fire to man a .50 caliber machine gun mounted on a damaged armored personnel carrier. In total disregard for his own life, he maintained his exposed position in order to engage the attacking enemy force. During this action, he was mortally wounded. His courageous actions helped defeat the enemy attack, and resulted in as many as 50 enemy soldiers killed, while allowing the safe withdrawal of numerous wounded soldiers."
Veterans Day Song: Pittance of Time
I think at times we all wonder how we would react under extreme pressure/mortal danger...In a real crisis would we be the firemen running into the WTC or the people trampling others to get out?
Who are these men that throw themselves onto grenades and IEDs without hesitation? These men and women that sacrifice themselves to protect others as a first instinct?
Thank you to each and every Veteran that has served our country and his fellow troops with honor.

My Dad, 4th Inf. Div. United States Army
My Grandfather, USS Sigourney, United States Navy
My Uncle G., United States Air Force