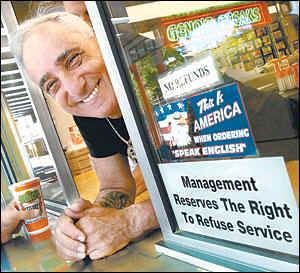 I'm not sure if what's going on in HAZLETON, PA has made national news...
Mayor Louis Barletta is fighting "to save his town from the ill effects of illegal immigration". "The ordinance, the original version of which passed in July, would penalize companies and landlords that do business with illegal immigrants. Its implementation has been temporarily stayed by a federal judge.
Hispanic groups and the American Civil Liberties Union have filed a lawsuit challenging the ordinance, arguing that only the federal government can regulate immigration." (
source
)
There is a website (
SmalltownDefenders.com
) where people can donate to the legal fees they will be facing.
Joey Vento, who first made national headlines with his "English Only" ordering policy, has donated $10,000 to the Hazelton fund. I went to an event a month or so ago (Philly cops and firemen) where Vento was an announcer and considering the crowd was extremely racially diverse I wasn't sure of the reception he would get...there was explosive applause and cheering...
How can it be illegal to stop people from doing something illegal? I'm so confused.