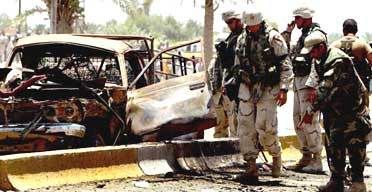 I am just wondering if the new
"reconsiliation plan"
in Iraq, that involves releasing prisoners, has
anything
everything to do with the increased violence as of late. We have seen first hand how prisoners (released under PC pressure) end up right back on the "battle field"...
"...Nearly 3,000 prisoners who were said to be "victims of random arrests" were pardoned and released in May in what Busho Ibrahim, the undersecretary in the Justice Ministry, said was a bid by the Shi'ite-dominated government to appease Sunni Arab anger over allegations of random detentions and maltreatment." (
source
)
It seems strange to me that I haven't heard anyone making the connection between the hundreds of prisoners being released in Iraq and the upswell of violence and American deaths...
For the past two days, many of the Democratic strategists that have been dispatched to "fix" John Kerry's "botched joke" have attempted to deflect public ire by saying things like, "The President should be the one apologizing for abandoning the kidnapped soldier in Iraq and taking down check points in Sadr City before he was found". That's a great talking point, but everyone knows that if the check points hadn't been removed at the behest of the Iraqi PM the left would have claimed it was a "puppet government" and we weren't respecting their sovereignty... (New information is being released about that kidnapped solider, 41 year old Ahmed al-Taie. Relatives are saying that he left the Green Zone to
visit a wife
he married secretly in Iraq. The manhunt continues...