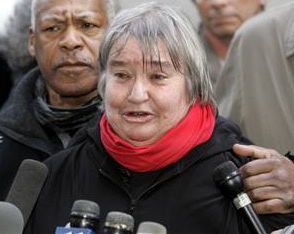 ...while Marines face the death penalty at Camp Pendleton.
It is a mixed up world when John Walker Lindh doesn't get charged with treason and now a far left defense attorney that clearly committed treason against this country gets a paltry two years in jail.
"...Radical lawyer Lynne Stewart was sentenced Monday to 28 months in prison for
helping a terrorist client communicate with his followers
, a far less severe sentence than the 30 years sought by federal prosecutors.
As U.S. District Judge John Koeltl delivered his sentence in a packed federal courtroom in Manhattan, Stewart lifted her eyeglasses and dabbed at tears as her husband hugged his daughter tightly. An hour later, the 67-year-old lawyer emerged from the federal courthouse holding hands with her granddaughter and grandson and, to loud cheers and applause from hundreds of supporters, declared a victory of sorts over the Bush administration.
"The judge did a fair and right thing," she told a thicket of reporters. "This is a great victory against an overreaching government."
And of her sentence, she sounded almost jaunty: "As my clients say to me, 'I could do that standing on my head.' " (
source
)
Her client was
Sheikh Omar-Abdel Rahman
who was the "mastermind" of the 1993 World Trade Center bombing --after which they said, ["Next time it will fall to the ground"].
"Koeltl made it clear that Stewart had committed a serious offense by smuggling messages between her client, Sheikh Omar-Abdel Rahman, and his followers in the Middle East, including a statement withdrawing the sheikh's support for a cease-fire with the Egyptian government. Stewart's actions, Koeltl said, constituted "extraordinarily severe criminal conduct" and material support for terrorism and could have had "lethal consequences." (
source
)
As I have said in the past, Michael Savage is often a bit radical for me...but the other day he said that [America will never win the war on Islamofascism until all the far-left lawyers are locked up]...and I think I have to agree.