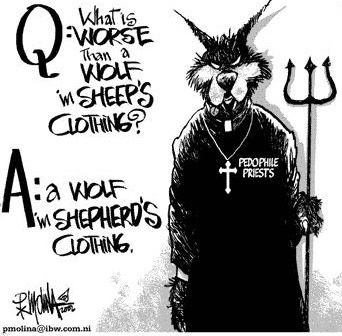 A week or so ago I posted about
Judge Harold Kane
who gave a child rapist a minimum sentence...
Unfortunately there are
tons
of stories like this out there... (Anyone that believes I've been "defending Foley" because I am criticizing DNC tactics obviously hasn't been reading here very long, as the extermination of child predators is my #1 cause):
A group of priests in New Hampshire's Manchester Diocese is getting together to raise money for pedophile priests. This quote made me sick:
"...The Rev. Michael Griffin, president of the newly formed Organization of Concerned Priests, tells the Union Leader newspaper, they began to sympathize with the men involved in the scandal. He said, "We could not imagine how we could have coped if we were in their shoes." (
source
)
If you were in their shoes, that would mean you were a sick child rapist. Ugh. Why aren't they raising money for the children that were traumatized by a "person of God"? They are calling it the "Mercy Fund" and soliciting donations of $1,000.
"He said the group's efforts are not intended to diminish the pain that survivors of the abuse suffered."
Well, mission not accomplished. It absolutely diminishes what these sick, twisted men have done. (H/T: Liz)
And, in almost equally disturbing news:
"...Republican State Rep. Eugene McGill urged a judge in 2003 to show leniency for a friend who sexually assaulted a 14-year-old girl and was later labeled a violent predator by the court.
The six-term Montgomery County incumbent defended a letter he wrote on behalf of Sheldon Granor - a man he called a "pillar of the community" - who developed a relationship with the teen over the Internet.
"I don't condone what people do," McGill said in an interview last week. "I write letters on the behalf of people I have personal knowledge of. I have done it before. I will do it again."
The victim, now 22, said she was offended by McGill's action and believed it suggested he had sought to protect a pedophile over his victim." (
source
)
What the hell is a Republican representative (let's make his 6th term his final term) writing requests for leniency for a child rapist?! Granor only got 21/2 to 5 years to begin with and McGill is asking for leniency. I don't blame his democratic opponent for using this against him in ads that are running now.
Screw the "war on drugs", I want a
war on pedophiles
... with ZERO tolerance.