1
)
Baby Update
:

AB is still home as Mischa, showing her feminine qualities already, has decided she wants to be late. If she hasn't gone into full labor by 4:00pm on Monday, they're going to induce her...
2
)
Air America Officially Tanks
: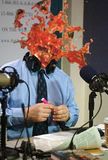 We all knew it was only a matter of time, but Air America has officially
filed for Chapter 11 bankruptcy
--isn't it just like a bunch of libs to welsh on their debts...they'll probably ask for the federal government to pay them. It seems they owe Stuart Smalley over $300,000.
"The liberal radio network, which bills itself as a progressive spot on the dial, will remain on the air — including on Los Angeles affiliate KTLK-AM (1150) — while operating under Bankruptcy Court protection.
"By running such a poor business they did a disservice to liberal talk radio by making it seem like the problem was that they were liberal," said Michael Harrison, the publisher of Talkers magazine, a talk-radio industry trade publication. "Before you change the world, make sure you pay your bills."
3
)
Sheehan the Nobel Laureate?
:
OMG, I thought this was a joke... but I think I just threw up in my mouth a little. Cindy Sheehan is on the
list of nominees for the Nobel Peace Prize
?!
When has she caused peace...as far as I know she has only caused a hell of a lot of contention?
4
)
9th Circuit Strikes Again
: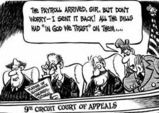 Arizona voted (Democracy, imagine that!) to make ID mandatory to vote (picture ID or two forms of non-picture ID) --they already used the new bill in the primaries. Now, the infamous 9th circuit in none other than San Fran, has
overturned the law
. The good news is that 75% of decisions that go to the Supreme Court from the liberal 9th circuit are overturned. How can the judiciary squash the voice of the people?
5
)
Slate rips off Blonde Sagacity
:
I know it's a little immature, but I'd be lying if I didn't say that Slate's new
Doonsberry "The Sandbox"
feature didn't irk me. Yes, I realize that *I* didn't invent the term 'The Sandbox', but for a year and a half I've had innumerable liberals emailing me to say how disrespectful it was to call my "In the Sandbox" feature that --they all informed me that "Iraq isn't a game" and I shouldn't equate it to "A child's toy", etc., etc. Since most of the far left doesn't know anyone in the military...they had no clue it was the Soldiers/Marines that dubbed Iraq that. Now, I have been linked on Slate, so I know they are aware of my site. "In the Sandbox" was *my* feature damnit... Anyway, enough with my "it was mine first" bitching, and Congrats to
Army Girl
for being featured in the column... ;)