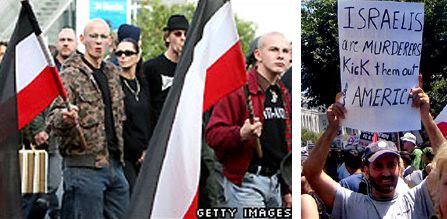 The other day I was reading about a large demonstration in Germany that was held by Neo-Nazis in solidarity with a jailed singer... many of the articles refer to them as "Neo-Nazis" once and then they are referenced as "right wing" protestors...
"...The far-rightists were protesting the detention of an obscure singer, Michael Regener. He also goes by the name "Lunikoff."
He was sentenced in December 2003 to three years and four months in jail after a court ruled his band "Landser" was a criminal organization that spread racial hatred. He began his sentence in April 2005 after losing legal appeals.
Israel's ambassador to Germany, Shimon Stein, said in an interview published on Saturday in the Neue Osnabruecker Zeitung newspaper he was concerned that Jews were not feeling safe in Germany. "They are no longer able to pursue their Jewish way of life here freely," Stein said" (
source
)
"This week, Germany's coalition government promised to spend more money on the fight against right-wing extremism." (
source
)
I couldn't help but think about the global juxtaposition...The "far right" in Germany are anti-Semites, but it's the far left in America
that despise the Zionists
...