YENTL GOES MENTAL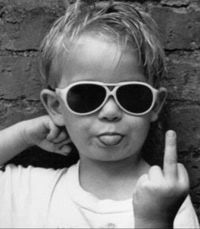 On the evening of October 10th, 2006, Barbara "Babs" Streisand dropped the "F" bomb at her concert in New York City after she was heckled by an audience member. Streisand let her political views seep through her music when in the middle of her show, she took a break from singing and performed an anti-Bush political skit. Streisand performed her satirical pro-liberal skit with the help of Steve Bridges, a George W. Bush impersonator who rocketed to fame by standing side-by-side with the President himself at the Annual Whitehouse Correspondents Association dinner. Only, in the skit with Streisand, Bridges portrays the President as a self-righteous bumbling clod.
Fans of the big-nosed Diva became frustrated at the lack of music and the addition of Presidential slander and became restless. Finally, one of the fans stood up and yelled, "What is this, a fundraiser?" Babs immediately lashed back and said, "Why don't you shut the fuck up?" "If you can't take a joke, why don't you leave and get your money back?" ... Well, he did in fact leave and demand a refund. After which, Streisand apologized to the audience and went back to singing.
These people paid $250 and up to see Streisand belt out her classic tunes. They certainly did not go to see a politically motivated comedy act and they had every right to be pissed. I am sick and tired of America's entertainers using their craft to force their political views upon their audience. If I pay $50 to go see Metallica, I want to hear their music, noting more, nothing less. Face it entertainers. Nobody gives a flying fuck what you think, how you feel and what your take is on current events, so just get out on stage, grab the mic and sing your songs like a good little monkey.
(You can read Irish Diablo daily
Violent Day Dreams
)