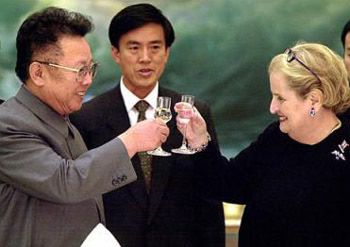 I guess we do. First, can I just ask why this regime isn't a glaring example to all the little Berkley-tards that communism equals starvation and deprivation...?
These poor, brainwashed, starving people have no internet, no outside television, no freedom of speech or thought and no religion --aside from the fact that they have no food (unless they're in the military). Now their "Dear Leader", he has all of that. Sushi, scotch and the entire collection of James Bond and Daffy Duck (?) movies. The only thing he seems to be lacking is height, sanity and an honest hairdresser...
North Koreans were even
the last to know
about yesterday's nuclear test.
Much like the events leading to 9/11, we could get into a real "blame game" when it comes to Kim Jong-il... but that seems pretty counter-productive at this point.
Here's the thing, the United Nations
really
needs to step up this time. North Korea has had 4 million warnings with no real punishment, they watched as Saddam got 4 million warnings from the Security council with no punishment. There must be repercussions now or the UN must be disbanded as the flaccid institution it has become...
I can't stand to think that a nuclear terror age will be started by a freaky little Napoleon-complex ruler of an otherwise insignificant country. Can't we tempt the citizens with good food and the World Wide Web?
On a more serious note, the best suggestion I heard from all the think tanks yesterday was for the US to offer to help Japan develop a nuclear weapon...hoping this will scare China into finally stepping up to North Korea. It's a risky proposition, but far less risky than Kim Jong selling these weapons to al Qaeda, Hamaas, Islamic Jihad or Hezbollah...