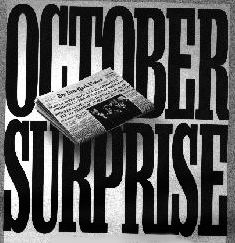 ...and there is yet to be the same level of furor as the the MSM and the left'o'sphere created over the Plame sorta-leak. Why is that do you suppose?
"...The chairman of the House Intelligence Committee has suspended a Democratic aide's access to classified materials, citing concerns the staffer might have leaked parts of an intelligence assessment on terrorism to the media.
The highly unusual move drew sharp protest from the panel's ranking Democrat, Jane Harman of Venice, who said in a statement Friday, "There is no evidence to suggest that the professional staff member in question did anything wrong."
With an election in less than three weeks that could swing control of Congress, the exchange reflects a major deterioration in relations on a committee that traditionally has sought to avoid partisan clashes. One congressional official said the committee was in "meltdown."
Committee Chairman Peter Hoekstra (R-Mich.) said he suspended the aide's access to secret intelligence documents after learning that the employee had requested a copy of a high-level intelligence estimate days before details of the document showed up in the press.
In a letter to Harman released by Hoekstra's office Friday, Hoekstra said, "I cannot assume that this was mere coincidence."
The aide was identified by other congressional officials as Larry Hanauer. The officials, who spoke on condition of anonymity because of a pending investigation into the leak, said Hanauer had held positions with the departments of Defense and Homeland Security before joining the professional staff of Democrats on the House intelligence panel about two years ago...." (
source
)
This isn't using the name of some washed up desk jockey at the CIA...this is NATIONAL INTELLIGENCE. I still believe the NYT should be held accountable for printing it, but to release information that could harm our troops to further political agenda is sick.
Now we just have to wait and see how many Democrats knew about Foley --and how special interest groups received the information just in time for an October surprise...not that the media will report any of it...