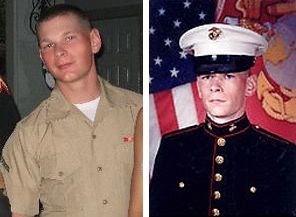 I haven't lost a son in Iraq (which is the reason I "glorify" those that are there), and some may say it's not fair to make comparisons…and everyone grieves in their own way...
But in a perfect world the grief would reflect the spirit of the lost loved one.
If Casey Sheehan had been against the war and sent to Iraq against his beliefs, I would totally understand how Cindy has politicized his death. But Casey re-upped after the war began. Casey knew he was going. Casey wanted to go...and that must burn her up more than anything Bush could do.
Gina Barnhurst won't ever get the on-air time Sheehan has, but the loss of her son was no less tragic. And she's handling it with grace, in a way I can only assume would make him proud as hell...
"...When Lance Cpl. Eric W. Herzberg decided to join the Marines while a student at Severna Park High School, his first mission was to ease the concerns of his mother, Gina Barnhurst.
"Gina was anxious to talk him out of it," said Doug Barnhurst, Herzberg's uncle. "She was worried about it. She was worried that he didn't know what he was getting into. But he convinced her it was a calling."
Yesterday, three days after the 20-year-old infantryman (3rd Battalion, 2nd Marine Regiment, 2nd Marine Division, II Marine Expeditionary Force based at Camp Lejeune, N.C. ) died while conducting combat operations in Iraq's Anbar province, it was his mother who conveyed the meaning behind that calling.
"We are deeply saddened by the loss of our wonderful Eric, yet we are so incredibly proud of him. He was proud to be a Marine and to serve his country, which he loved dearly. He was a happy, quiet young man with a deep compassion for others and a deep faith in God...
On his mother's car was a more succinct message in the form of two bumper stickers: "My Son Is A US Marine," and "My Son Defends Our Freedom." (
source
)
Rest in peace Lance Cpl. Herzberg...your memory and sacrifice has been respected and honored.