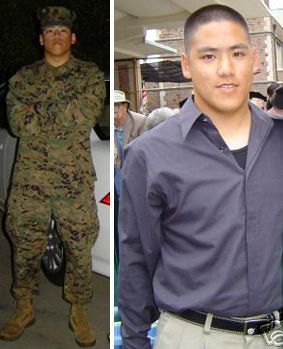 Marine Corps Sergeant Benjamin Lee (23 year old OIF veteran) is auctioning himself off on eBay. Bidders will be competing for a date to the Marine Corps Birthday Commemoration Ball.
The winner will need to purchase the ticket to SoCal for the day before the ball and bring a gown, the Sergeant will:
-Pick you up for the airport
-Take you to dinner that night
-Take you to a salon the next morning
-2006 West Coast Marine Musicians Birthday Ball at the Riverside Convention Center on Saturday evening
-breakfast/lunch on Sunday morning
(No mention is made of lodging arrangements)
All proceeds from the auction will be donated to the Pat Tillman Foundation.
You can find the auction
HERE
.
There were (5) bids at the time of this posting. What could be better than dating a Marine...and for a military charity no less ;)
(H/T:
Irish Diablo
)