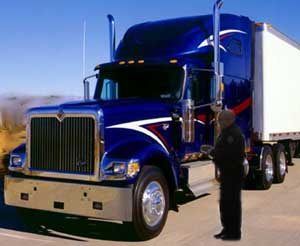 William Connell, attempting to make a delivery in the Philly suburbs with his 53 foot truck and armed with directions from his employer, got lost and ended up with a ticket for
$17,000
. You read that right...
"...PennDOT spokesman Charlie Metzger said they, along with the East Whiteland Police Department were just enforcing a law that penalizes trucks that are too heavy for certain bridges and roadways, which might be damaged by overweight vehicles.
The NBC 10 Investigators' Vince DeMentri asked Metzger why the ticket was $17,000.
"It's $150 for the fine, and then it's $150 for every 500 pounds over the 3,000-pound weight limit," Metzger said.
Metzger said there is a reason the fines are so stiff.
"The money can go right back into the repairs of the roadway or the bridge," Metzger said..." (
source
)
Hopefully his union (the Teamsters I'm sure) will make good on all the union dues taken from this man's paychecks and fight this for him... Pennsylvania, the Blue state. So much for Democrats caring about the "working man".
(H/T: Liz)