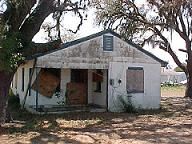 I have told you all before how much I enjoy the drive to North Carolina... I love watching Mason turn to Dixon and deciding where *I* think "the South" begins (somewhere in the last half of Delaware IMO). I love the way the signs change from fancy manufactured ones to hand-painted wood ones. I love watching the houses and landscape change... and I love reading all the billboards.
One that I kept seeing this time boldly stated: "We'll Buy Your Ugly House" at
www.webuyuglyhomes.com
.
The question is, do they then manage to sell ugly houses? And who buys them? Is there a market for this I should've foreseen? ;)