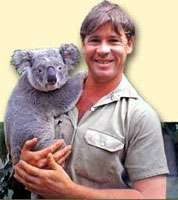 Wow (or Crikey!), I can't believe Steve Irwin is dead.
"...Irwin was in the water at Batt Reef, off the remote coast of northeastern Queensland state, shooting a segment for a series called "Ocean's Deadliest'' when he swam too close to one of the animals, which have a poisonous barb on their tails, said John Stainton, a friend and colleague.
"He came on top of the stingray and the stingray's barb went up and into his chest and put a hole into his heart,'' said Stainton, who was on board Irwin's boat, Croc One, at the time.
Crew members called emergency services in the nearest city, Cairns, and administered CPR as they rushed to nearby Low Isle to meet a rescue helicopter.
Medical staff pronounced Irwin dead when they arrived a short time later, Stainton said..." (
source
)
My kids love The Crocodile Hunter. They love the show and have a bunch of the DVDs. Say what you will about him, but he seemed like a good hearted person with a great sense of humor. If I remember correctly he also has a young daughter and very young son... I know it's a hazard of what he does, but damn...a stingray?