...And I'm counting on all of you to be there listening to our very humble, neophyte beginnings... The show airs on
Wide Awakes Radio
and starts at
9:00 pm EST
.
Who will be our first Guest you ask?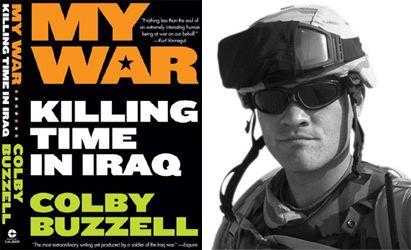 Who else but the Blogfather?! That's right folks... Our first guest is Colby Buzzell. Author of one of the first Milblogs:
My War: Fear and Loathing in Iraq
and the subsequent book:
My War: Killing Time In Iraq
(Which is released in paperback today!)
I think Colby is defying his publishers to be with us (they want him on Air America), so tune in for all the latest news from this much-missed former blogger.
If you have any questions for CB, please leave them in the comments here and I will ask them for you...
I want to thank producer
Kender
(coolest guy ever) of
Kender's Musings
for this opportunity and thank
Jay
at
Stop the ACLU
for facilitating it.
TONIGHT AT 9 PM EASTERN!!!!!