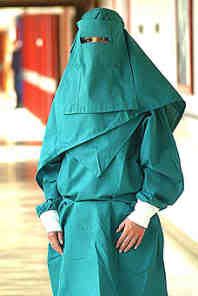 Burka-inspired scrubs are sweeping the U.K. -or so a recent article implies...
"... The blue "Inter-Faith Gown" is the first of its type in Britain and has been trialled at the Royal Preston Hospital. It will be available to those who want it from November 1.
Hospital bosses said the gown -- which covers the entire body from head to toe -- provides extra comfort and cover for patients undergoing medical procedures and whose culture or religion requires more modest attire.
They described the response from patients as "overwhelming" and said it had attracted interest from a number of other hospitals around the country..." (
source
)
I'm a bit confused here -how many Muslim women actually don the burka each day? I thought this was a Talibanesque -strictest, fundamentalist requirement that only a select few of the most "devout" Muslims subscribed to... How widespread is the burka in the UK that hospital gowns need to be designed? Is there a catholic nun gown? A high collared floral Evangelical gown? A Mormon gown with built in knickers?
I'd like a Coach leather gown... My religion of materialism requires it...