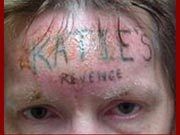 Even among the dregs of society there are things that "just aren't acceptable" and raping and/or killing children is (thankfully) one of those things.
Anthony Ray Stockelman found this out the painful and humiliating way. In an act of inmate-style "justice" this man, convicted of molesting and killing ten year old Katlyn "Katie" Collman, was held down and tattooed right across his forehead. Literally, he is a marked beast.
"...Collman's father, John Neace, said he heard about the tattoo from friends and believes it was the work of inmates.
"If I had to guess I'd say it's a statement from the inmates," he said Wednesday.
Stockelman's tattoo, which covers nearly his entire forehead, has "KATIE'S" in large letters and "REVENGE" below in smaller letters." (
source
)
This so made my day...
(H/T: Liz)