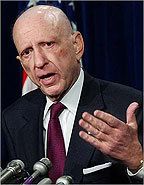 How many more times can this man make me pay for voting for him...? He is a constant thorn in my flesh and a constant reminder that it is
wrong
to vote strategically instead of voting your conscience... Pat Toomey, I am sooooo sorry.
What is Senator Specter up top now you ask (besides making me miserable)?
"A LEADING Republican senator said today he will fight to give detainees the right to challenge their imprisonment, creating a new potential obstacle for legislation US President George W. Bush wants in order to put terrorism suspects on trial."
(
source
)
Isn't "terrorists' rights" an oxymoron...a paradox if you will?
"Senate Judiciary Committee chairman Arlen Specter said he would join Democrats working to amend a bill setting up trial procedures for foreign terrorism suspects that Republican leaders are trying to push through Congress this week."
Specter isn't "joining Democrats" --that's the problem, Specter IS a Democrat.