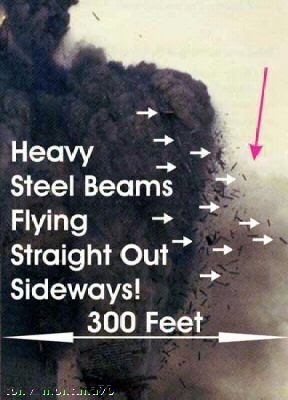 The past week has been heaven for the Area 51 crowd...
The 9/11 conspiracy theorists are in a tizzy online claiming that Bush finally admitted to there being "explosives in the towers" during his Rose Garden press conference on Friday...
Here is the statement they're referring to:
"...The information that the Central Intelligence Agency has obtained by questioning men like Khalid Sheikh Mohammed has provided valuable information and has helped disrupt terrorist plots, including strikes within the United States.
For example, Khalid Sheikh Mohammed described the design of plane attacks on building inside the U.S. and how operatives were directed to carry them out. That is valuable information for those of us who have the responsibility to protect the American people.
He told us the operatives had been instructed to ensure that the explosives went off at a point that was high enough to prevent people trapped above from escaping.
He gave us information that helped uncover al-Qaida cells' efforts to obtain biological weapons..." (
source
)
Which is spawning comments such as this in forums all over the internet:
"So what, they gonna say that the cavemen with boxcutters planted explosives in the buildings! COME ON! I've had more believeble dreams before...
This is fitting with the LEASE holder, Larry Silverstein admitting in a PBS documentary that "they were not sure they could contain the fires and they decided to 'pull the building' and watch it collapse"..."
Good Lord. Even the anti-Bush member of Gov. Bill Richardson's staff (who met Michael Moore) that we had on the radio show last night said anyone who believes Bush, Cheney, Rumsfeld and anything to do with this is just a wacko...
A good friend of mine told me the other day that his brother (an otherwise very intelligent and successful man) is buying into the whole 'Bush blew up the towers' insanity. If anyone knows a succinct body of information that summarily dispels this line of thinking...please give me the link. There are still
plenty of articles
from experts claiming this was an "inside job"...
The second exciting event for this crowd came to light yesterday when NASA halted shuttle re-entry due to an unidentified flying object that is orbiting with the shuttle and was filmed by NASA. (
source
)
Maybe the aliens in that floating debris gave Bush the invisible explosives to blow up the towers
and
the levees in New Orleans...
What the hell, I might as well throw my own conspiracy into the mix...
Maybe the
ecoli outbreak in the spinach
has been orchestrated by the "illegals doing jobs Americans don't want to do" to get back at us. ;) No really...