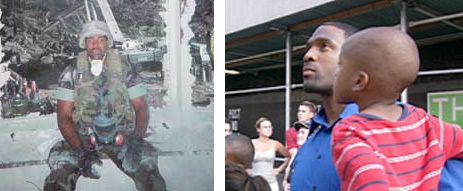 Though Oliver Stone cast a skinny white man (actor William Mapother) as a Marine that went into the rubble of the World Trade Center and rescued two Port Authority Police Officers who were trapped deep in the wreckage (Will Jimeno and John McLoughlin) -that wasn't accurate.
Off the big screen, Sgt. Jason Thomas, is a handsome, strapping
African American
United States Marine. When he heard about the attacks on that fateful September morning, he immediately donned his uniform and headed straight to the Towers. Once there he met Dave Karnes, another Marine, and they went into the pile together. Risking their own lives as the South Tower fell, they managed to save two that were trapped.
"Thomas now lives in Columbus, Ohio, and never told anyone about the rescue — not even his five kids — and had no idea police detectives had tried in vain to find him.
"This man has been selfless, and he doesn't look for fame. He doesn't look for fortune, and I am just glad that I am able to say 'thank-you' to him," said Will Jimeno, who was rescued that day and whose story is told in "World Trade Center."
Thomas recently saw a trailer for the movie and came forward.
The moviemakers admit that without Thomas' guidance, they got some of the details wrong, including casting a white actor to play him. But that's not why Thomas won't be seeing the film.
"I'm not ready for the movie. It would bring back too much," he said.
Besides, he already knows the story by heart." (
source
)
The humility of this man is amazing. I saw him interviewed on FNC yesterday and he was so unassuming... Just utilizing his training in the USMC and expecting no accolades for doing so.
Ooh-rah Sgt. Thomas -you embody what I wish all Americans would have gleaned from September 11th.