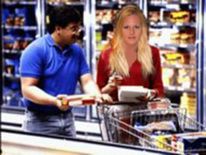 Last night I went to our local grocery store to pick up ingredients for the tacos I've been craving. I was rounding the final stretch to the check out counter and saw a foreign-looking man approaching me:
"Hello, Ma'am, uh, do you think I could pay for your goods with my welfare. With my, uh, food stamps card and you could give some, give the cash to me?"
"Uh, NO."
Does that pretty much sum it up?