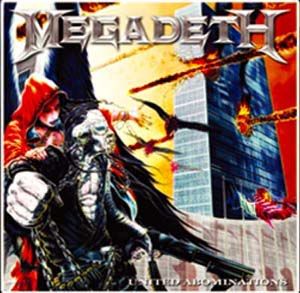 The Man
hates
that I like Megadeth, but I am feeling pretty vindicated...
Dave Mustaine (heavy metal band Megadeth's lead singer) said their new album, set for release in 2007, will be called "United Abominations":
"..."I was watching TV and saw the trucks that said 'UN' on them and said, 'Man, you are so uncool, ineffective, anything," the singer/guitarist said in a recent Billboard interview.
"I thought, 'Wow, I've got to run with this. I got it -- United Abominations, 'cause it's an abomination what they're doing!' "
The longtime bane of American conservatives, the United Nations has been criticized for its slow responses to humanitarian crises in hot spots such as Darfur and Rwanda. U.N. Secretary General Kofi Annan recently expressed frustration that the group took so long to broker a ceasefire between Israel and Hezbollah in Lebanon." (
source
)
Is Mustaine a conservative? I have no idea and I don't much care --it shouldn't take a conservative to recognize the ever-growing ineffectiveness of this organization...
Never-the-less, I'll be buying the CD even if it sucks...
(H/T: Liz)