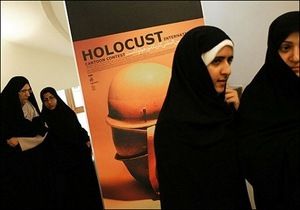 Is it just me that doesn't understand equating a drawing of Mohammad with caricatures of the Holocaust? I mean really. Drawing pictures/cartoons of an individual is (in my mind at least)
vastly
different than making light of mass murder.
I am referrring to the retaliatory "Holocaust cartoon fair" that is opened in Iran (where the President has denounced the Holocaust as a "myth").
"...We staged this fair to explore the limits of freedom Westerners believe in," Masoud Shojai, head of the country's "Iran Cartoon" association and the fair organizer, said.
"They can freely write anything they like about our prophet, but if one raises doubts about the Holocaust he is either fined or sent to prison," he added.
round 1,100 cartoons were submitted by participants from more than 60 countries and that more than 200 are on show.
He said the top three cartoons will be announced on September 2, with the winners being awarded prizes of 12,000, 8,000 and 5,000 dollars respectively.
Shojai did not elaborate on the source of the prize money, but emphasized that it did not come from any governmental body." (
source
)
This fair doesn't make me want to withdraw my "western free speech limit"... it just makes them look like my seven year old. Does Israel now showcase a Bulldozed Palestinian houses cartoon festival...? Not only are
these people
(yeah, I said it) living in the 13th century --they're immature as hell.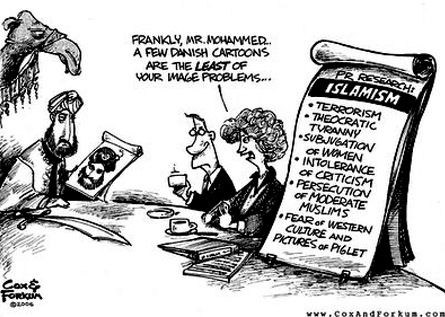 Cox & Forkum