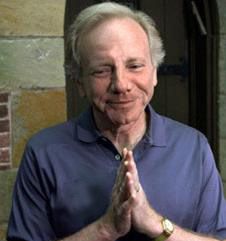 Even though a loss for Lieberman may be the best thing that even happened to the floundering Republican party... I can't bring myself to root against one of the few FDR Democrats left in this country. Lieberman
votes against my interests about 85% of the time
, but he gives me hope in the Blue States.
Good luck Joe
, this conservative hopes you win. It will give me faith that Democrats still believe in strong national defense despite all the other evidence to the contrary...
(Both
Clinton
&
Max Cleland
campaigned for Lieberman --the
New York Times
,
N.O.W.
and the left'o'sphere endorsed Ned Lamont. I guess they are overlooking that he is a millionaire and former Republican...)
Update
: Lieberman's campaign websites
were hacked
. This is no surprise considering Lamont is backed by Moveon.org.
Update
: Early results
show Joe trailing Lamont
.
Update
: Jay is reporting that
Lieberman has conceded to Lamont
. Sorry Joe.