"Our troops overreacted because of the pressure on them and they killed innocent civilians in cold blood." ~ Rep. John Murtha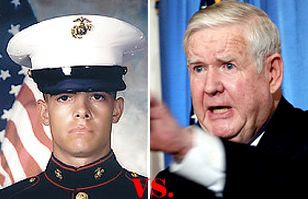 One of the innocent (until proven otherwise) Marines from the 'Haditha incident" is suing the grandstanding Representative Murtha for
libel
... It's about time. I think Staff Sgt. Frank Wuterich has a damn good case.
"...In the suit, filed in U.S. District Court for the District of Columbia, attorneys for Staff Sgt. Frank Wuterich said Democratic Rep. John Murtha of Pennsylvania made false, misleading and defamatory statements.
It said Murtha's statements in the press about the case have pressured the Pentagon to pursue charges against Wuterich and other Marines, and to use them as "scapegoats" to prove that allegations of atrocities committed against Iraqis will be pursued, "no matter how baseless."
"Mr. Murtha has intentionally disseminated with malice his hearsay version of the events of November 19, 2005 with knowledge of the false and libelous nature of the statements contained therein and/or with gross negligence or reckless disregard for the truth," the lawsuit stated." (
source
)
*
Newsbusters
notes that the Washington Post buried this story on page 5.
Politically Murtha is a genius...no one knew his name a year ago. It's a shame he felt he needed to slander his fellow Marines to gain his 15 minutes...