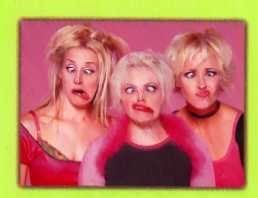 Everyone
in America has freedoms... They had the "freedom of speech" to make the comments they made and Americans had the freedom to keep their money in thier wallets...
"... Several concerts on the Dixie Chicks' "Accidents & Accusations" tour have been canceled after slow ticket sales, but the group says it has replaced them with other dates.
Kansas City, Houston, St. Louis, Memphis and Knoxville are among 14 cities no longer on the original schedule released in May, according to a revised itinerary posted Thursday on the Dixie Chick's Web site.
Other shows, including Nashville, Los Angeles, Denver and Phoenix, have been pushed back to later dates.
The North American leg of the tour kicked off July 21 in Detroit. Billboard magazine and other trade publications have reported lackluster sales in some markets, particularly in the South and Midwest..." (
source
)
Worse than being annoying, they are thieves...
Their new documentary is entitled "Dixie Chicks: Shut Up and Sing" --Sound familiar? Laura Ingraham's book that was released in September of 2003 was...
Shut Up and Sing
.