Well, an internet radio anyway... Premiering September 5, 2006 on
Wide Awakes Radio
: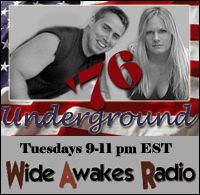 What happens when you put a slightly Feminazi-ish Libertarian-leaning Conservative Philly girl on the same show with a Michael Savage-esque '91 Gulf War Veteran and total Man's Man? W.A.R.
'76 Underground
will air Tuesday nights from 9pm -11pm EST and your recruiters will be '91 Ghost and ALa (of
Blonde Sagacity
).
ALa
is the one registered Republican living in Philadelphia, though she has become increasingly agitated with that party. She tends to gravitate to the limited government aspect of the Libertarian party yet often laments the fact they have no cohesive platform. ALa currently writes an 'agony aunt' column for a small Southern paper and has plans to begin substitute teaching in the fall. She is currently studying martial arts…so word your questions carefully!
'91 Ghost
is one if the rare Right-thinking heterosexual males working for a Northeastern "blue" State's government. Formerly a Veteran's Lobbyist on K Street, he's well aware of the dark underbelly of politics in America and unlike Anthony Swofford he did discharge his weapon during the first Gulf War. Ghost never minces words (he served for that right), so if you're easily offended…please call in!
CALL IN LIVE 1-888-407-1776 -- Every Tuesday 9 pm - 11 pm EST
Here's the problem:
When I say my "name" I say Ay-eL-Ay... I know John from Argghhh! says "Ayla" (which I should have used), but I think most of you say "Allah". Do I go with Allah and enrage CAIR (and probably mess it up a lot because I never think of myself as Allah) --or go with Ay-eL-Ay and have you all get used to hearing it that way? This has never been an issue before, but now I find myself worrying about it...