"Do they want war because they have the devil inside them?" demanded Venezuelan President Hugo Chávez, speaking of the Jewish state. "I say to them from here, from Iran, once and a thousand times: Murderers! Cowards! Frankly, their fate has been sealed, from the depths of the people's soul."
(
source
)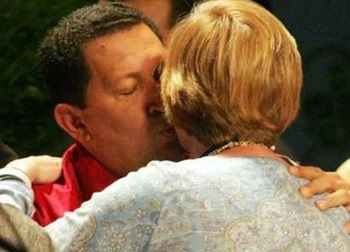 Yes, Cindy Sheehan's new boyfriend is in the news yet again...
Hugo Chavez has proved he has no knowledge of history by proclaiming that Israel is engaged in the "new Holocaust":
"...In an interview with Qatar-based Al Jazeera television last week, Chavez criticised Israel for its attacks on Lebanon and the Palestinians, comparing its operations to those of Hitler.
The day before the interview, Chavez ordered the withdrawal of Venezuela's ambassador to Israel in protest.
Regev said Israel did not appreciate Chavez's allying himself with views similar to those of Iranian President Mahmoud Ahmadinejad, who has called for the destruction of Israel.
"We have a Venezuelan president who embraces the Iranian leader who just a couple of days ago called for Israel to be wiped off the map," said Regev." (
source
)
Blah, blah...anytime there is a crisis in the world "Hitler" and "the Holocaust" is predictably bandied around...
What
really
interested me was the fact that this story buried the more interesting one...
Chavez wants a seat on the United Nations Security Council
... Well, why not? Syria already holds a seat there, right? We might as well make is a
total
joke.
"...It remains to be seen whether Chávez will get his Security Council seat in a vote by the General Assembly in October; thanks to some inept diplomacy by the Bush administration, he just might. But Bush at least managed to win last week's war of words. Asked by a Fox television interviewer if Chávez posed a threat to the United States, Bush responded with the cruelest cut possible for the Bolivarian: "No, I don't view him as a threat." (
source
)
We really do need to revisit the fact that the U.S. provides the majority of U.N. funds... Shouldn't it work like shares in a Corporation?!