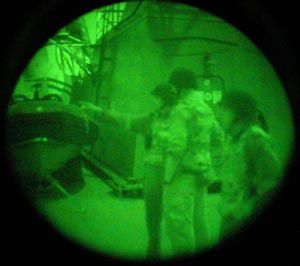 Night vision goggles stamped "Made in Britain" were found in Hezbollah bunkers... Israel. In 2003 Britain sold night vision goggles to Iran to combat "drug smuggling"...but Israel doesn't believe this equipment is from that batch.
"A Department of Trade and Industry official said night-vision equipment of military specification required an export license. The investigation will look into whether any British company might have breached export regulations.
If any of the equipment has been diverted to Hezbollah, it would be a serious embarrassment for the Government. Hezbollah's "external security", the military wing of the militant organization, is proscribed as a terrorist group. The Government has also made clear its support for Israel's struggle with Hezbollah and has approved the transit of bunker-busting bombs and missiles for the Israelis from the US through British airports.
Liam Fox, the Shadow Defense Secretary, said: "If this turns out to be true, and Iran supplied backing for Hezbollah, it will have consequences for any future military exports to Iran. And it points the finger all the more strongly at Iranian involvement in destabilizing the Middle East." (
source
)
Do we really need more proof that Iran is a destabilizing force in the Middle East? I thought maybe the
continued uranium enrichment
might be a tip off...
As for England, every article I read makes the state of affairs there seem worse than the last -- clerics calling for Sharia law, Muslim population thinking of themselves as Muslims and not as Brits, UK Muslims thinking 9/11 and 7/7 was 'deserved', and now voices in U.K. academia saying that
dying for your beliefs is just"
.
(Interesting aside: MS Word has Hezbollah in the spell-check dictionary, but still doesn't have blog...)