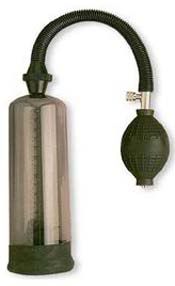 Twenty-nine year old Madin Azad Amin wanted to hide his penis pump from his mom so bad that he was willing to take the rap for having a bomb...
"...guards found an object in his baggage that resembled a grenade, prosecutors said.
When officers asked him to identify it, Amin said it was a bomb, said Cook County Assistant State's Attorney Lorraine Scaduto.
He later told officials he'd lied about the item because his mother was nearby and he didn't want her to hear that it was part of a penis pump, Scaduto said.
He's been charged with felony disorderly conduct, said Andrew Conklin, a spokesman with the Cook County state's attorney's office." (
source
)
Amin shouldn't be ashamed.
I'm going to give you guys something you'll never get on another conservative site --a bit of a "sex toy" lesson. The lesson is that a penis pump usually isn't an item of pleasure, but a necessity for men that have had heart and blood pressure problems. I used to think that pumps were for fanciful men that actually believed it could "enhance" their God-given equipment. About a year ago a good friend told me how these pumps have saved dignity and marriages by allowing men that could no longer sustain erections to keep one. They pull the blood that has stopped going 'there' for one reason or another and the man then "seals" it in with a rubber ring. Wah-lah! Man happy and wife happy...
As a conservative I am all for happy marriages --so if these little devises help achieve that...pump away! ;)