Welcome to Blonde Sagacity! I am currently on vacation in The Outer Banks, NC, but please have a look around and check out some of the other talented bloggers that have been guest-posting for me while I'm away. You'll find posts from both left and right leaning bloggers. I will be back and posting again on Monday...
For the regulars:
The Philadelphia Metro
interviewed me yesterday
for their paper and the article ran today... Though I don't come off as very articulate in the piece --which was my fault because I did the interview from the beach with a cell signal that was going in and out--I'm happy with the finished product. You never know what the interviewer will do when you're a conservative in a navy BLUE city, but the Metro's Josh Cornfield was pleasant and surprisingly neutral.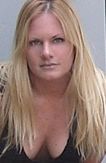 I haven't seen the paper yet (AB grabbed me a few on her way to work this morning) but she says that they cropped my best assets out... ;) LOL