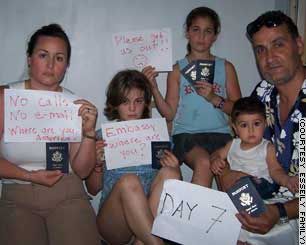 Can someone PLEASE explain to me the whining and complaining and finger pointing about Americans not being able to get out of Lebanon?! Why the hell would you be in Lebanon to begin with?! And why is it the government's problem when
despite State department travel warnings and advisories
you decided to go to a country in the Middle East that sit next to Israel and Syria and elected Hezbollah to its Parliament?!
"Where are you America?" her sign says
?!... How about "why was I so bereft of rational thought that I decided to
vacation
in Lebanon"...
It's hard to muster any sympathy. I'm in a crappy mood today, but even if I wasn't I don't think much sympathy would be forthcoming... The geniuses over at the Democratic Underground are
comparing it to Katrina
... *sigh* Has personal responsibility been completely lost on this country?