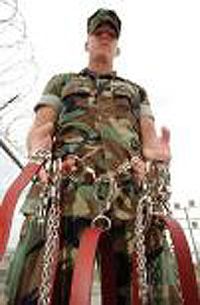 Attorneys for 2 of the 7 USMC POWs being held at Camp Pendleton have accused the government of blocking their independent investigation. Even though Representative Murtha has more than once accused his fellow Marines of being guilty until proved innocent --I am not ready to do that...
..."The government had no problem sending my client over there three times in defense of our country's freedoms and liberties," said attorney Joseph Low, who represents Cpl. Marshall Magincalda. "Therefore, they should have no objection to sending an investigator over there once in defense of those rights that he risked his life for."
(*emphasis mine)
"We're being deprived of the basic tools that we need for what the Marine Corps has assured us will be a fair and impartial Article 32 hearing," said Siegel, who spent more than 20 years in the Marine Corps and has been involved in dozens of military trials.
Siegel said the letter denying a visit to the Iraqi village of Hamdania was signed by Lt. Gen. John Sattler, commander of the I Marine Expeditionary Force based at Camp Pendleton, and given to the attorneys this week.
The defense attorneys, hired by the men's families as additional counsel to the military attorneys appointed by the Marine Corps, also complain they still do not have complete autopsy or forensic reports. Awad's body was exhumed in June and examined at Dover Air Force Base in Delaware before being returned to Hamdania and reburied."(
source
)
More rights have been granted to pedophiles, rapists and the GITMO terrorists than these Marines that have served second and third tours in Iraq... I am having trouble grasping why...
Michael Savage is donating $5 from each sale of his book "Political Zoo" to aid in the defense of the seven Marines and one Sailor.
Order Your Copy Now