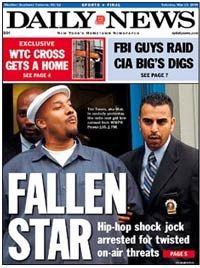 DJ Star (Troi Torain) has topped anything predecessors Howard Stern or O & A have ever done to upset the public and the FCC. At least in my opinion...
Whether it was "just talk" or just "part of an on air persona" is unimportant to me. He threatened, on the air, to
molest the four year old daughter
of a rival DJ.
This was the on air rant:
Troi Torain: "Where does this kid go to school? I give $500 for that information.
Oh, I'll come for your kids. I will come for your kids. Man, I finally got the information on his slant-eyed whore wife.
You didn't hear me. I said I would like to do a R. Kelly on your seed, on your baby girl.." (
source
)
The worst part of the story is that even though he was fired by Clear Channel (not until after the rival DJ's wife held a press conference) -all charges against him have been dropped.
"...Yesterday, prosecutors in the Manhattan district attorney's office said the charge against Mr. Torain would be dismissed in six months if he performed three days of community service and complied with an order of protection that bans contact or communication with the child or her parents.
Barbara Thompson, a spokeswoman for the district attorney, said prosecutors took the action "because it spares the 4-year-old victim from any further attention or exposure."
In a telephone interview yesterday, Mr. Torain welcomed the decision. "This was the biggest story in regards to freedom of speech in quite some time," he said." (
source
)
This guy offers a $500 bounty to NY listeners for information on a four-year-old's school so he can urinate on her and molest her...and he walks away...? What happens when one of his fans takes this to heart?
I know everyone says our legal system is the best in the world…but after posting on so many stories of this nature, where we can't seem to protect the weakest and most innocent among us, how are we supposed to believe that? It seems to me that "best in the world" still isn't good enough.