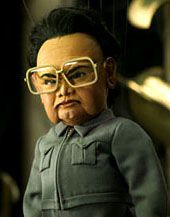 I haven't blogged about North Korea's recent actions because I'm not even sure what to say about it...other than, had the long-range Taepogdong-2 missile been successful it could reach the U.S. --with nuclear material. Forget global warming for now --this IS an imminent threat.
I am not a historian, a diplomat or an international strategist...so I have no idea what comes next.
Michael Rubin had a great piece yesterday about how we got to this point on National Review Online:
"...The Bush administration denounced Pyongyang's actions. "The United States strongly condemns these missile launches and North Korea's unwillingness to heed calls for restraint from the international community," a July 4 White House statement read. Unfortunately, recent U.S. diplomacy has undercut the value of such condemnation. Pyongyang need only look at Tehran for an understanding of how illusionary U.S. red lines are.
Both North Korea and Iran's nuclear diplomacy are testaments to how Western diplomats reward intransigence.... (
Read the rest of the article
)
I hope Tony Snow was sincere when he said this action will not be rewarded with an "incentive package"...