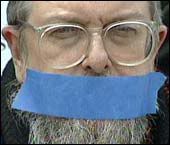 How long did Ward Churchill keep his job after all the outlandish claims he made from his classroom shaped bully-pulpit?
Well, if he had been on the other end of the political spectrum his fate wouldn't have been so protracted.
"...Responding to what has been condemned as a violation of academic freedom, professors, scholars, and students worldwide signed a petition by The Scholars for Peace in the Middle East to reinstate Professor Thomas Klocek to his teaching position at DePaul University in Chicago, Illinois.
Klocek was suspended from the university following a campaign launched by pro-Palestinian student groups and the Council on American Islamic Relations (CAIR). Klocek believes in Israel's right to exist as a sovereign Jewish state within safe and secure borders..." (
source
)
Thanks to the ultra-quick work of two student groups (Students for Justice in Palestine (SPJ) and United Muslims Moving Ahead (UMMA)) with the backing of CAIR Professor Klocek was fired...for believing Israel has the right to exist.
View the petition to reinstate Klocek