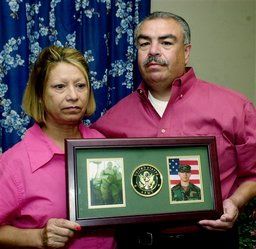 "Less than two years ago, Roy Velez got the worst news a father could get: His oldest son was dead, killed during combat in Iraq.
This week, his pain only deepened with news that his youngest son had died in Afghanistan." (
source
)
I cringed as I continued to his reaction... I can't even begin to imagine the pain he is experiencing right now. Both boys. His younger son, Army Spc. Andrew Velez (22 years old), was given the option to go home after his older brother, Army Cpl. Jose A. Velez (23 years old) was killed in Fullujah. He refused...making the story that much more painful.
Father Roy Velez's reaction?
"I can't be angry. I feel like my heart's been pulled out," Roy Velez said Tuesday. "We've done what the Lord allowed us to do for our country."
Loss, denial of self, and honor in the face of more loss.
This Texas man will not get the press that Cindy Sheehan has commandeered...but, wow, he has my complete respect --and my condolences and prayers. I am awed at his magnanimous nature and sacrifice.