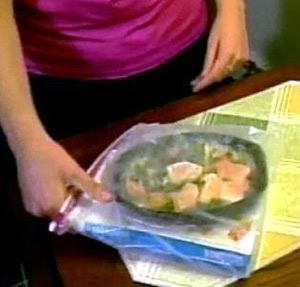 Is Lean Cuisine getting creative as the bid for your diet bucks gets more competitive? I know finding a furry little mouse head in my Salmon would put me off food for a while...
"...Zurn said she knew something was wrong when she smelled a rotten odor after opening the package. She said she then saw the head of a mouse -- including its teeth and hair.
"As I'm poking at the salmon, I see three hairs sticking up on the side of the dish," Zurn said.
Officials at Lean Cuisine's parent company, Nestle, said they are concerned about the incident and a full investigation is under way.
Zurn said she has no intention of filing a lawsuit against Nestle, at least for now...." (
source
)
Yeah right not suing, she saved the meal in a Ziploc bag for posterity? Pretty gross though, I might not begrudge that lawsuit...