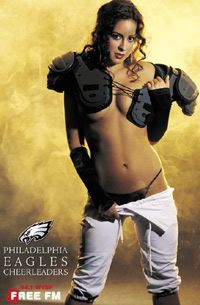 Since I have been finding current event excuses to post some beefcake shots lately and I realize we have a co-ed crowd out there... I have found a current events excuse to direct your attention to some scantily clad cheerleaders.
The Philadelphia Eagles Cheerleaders are releasing their calendar and this year they are asking for fan participation.
They want you to vote
for one of the above girls to get the cover shot. I voted for the first one (Lora) though I was a bit perturbed to see no blondes in the running... Not even sure why #2 is a contender.
Happy now? ;)
Oh, voting ends TODAY at noon (Eastern time of course...)