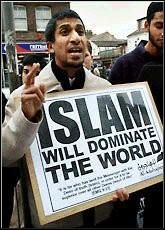 Who murders a peace-loving, non-violent Buddhist? A teacher of 12 years who dedicated his life to educating young children? Who would not only murder him but do it in the classroom in front of the children?
Why, members of the Religion of Peace of course.
"...Thailand, the Land of Smiles, is close to becoming yet another front in the global war on terror. A bloody Islamic insurgency in the south has already left 1,400 dead. And al-Qaida may be fueling it.
Three more people were killed this week by brutal Islamic separatists. The victims included an old farmer who was stabbed and apparently burned alive and a teacher who was shot, chalk still in hand, in front of his class. Just a few days earlier a 60-year-old Buddhist man was shot to death as he drove a motorcycle with his wife in Pattani, one of three insurgency-torn southern provinces bordering Muslim-dominated Malaysia..." (
source
)
Is there a country left that hasn't been affected by Muslim extremists?
Excerpt from an interesting article about Muslim integration:
"...Islamists arrive in the United States despising the country and all it represents, intending to make converts, exploit the freedoms and rights granted them, and build a movement that will effect basic changes in the country's way of life and its government. The superpower status of the United States makes it especially attractive to those who wish to change the world order; what better place to start? Islamists do not accept the United States as it is but want to change it into a majority Muslim country where the Qur'an replaces the Constitution. "Our plan is, we are going to conquer America," is how a missionary put it already in the 1920s.4 His latter-day successors are no less ambitious. They have two alternate strategies, non-violent (i.e., conversion of the Christian majority) and violent (i.e., jihad), to accomplish this." (
source
)