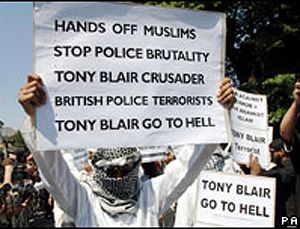 Mulsim fundamentalist Anjem Choudary, the man who organized the Danish cartoon protests in London, was fined just 500 pounds (about $915) and given 90 days to pay.
"...last night Choudary's paltry punishment provoked fury.
Andrew Dismore, Labour MP for Hendon in North London said: 'He should have been given the maximum sentence possible. '£500 is a ridiculously small sum given this man's appalling track record.
'But the real issue is why the Crown Prosecution Service and the police have chosen to prosecute him on such a minor charge. We were promised much more than that after these protests.
'It will have cost more to bring the case to court that he has been fined and I'm sure he will now go around crowing that he has beaten the system.' (
source
)
About 500 Muslims showed up to protest (some dressed as suicide bombers) his prosecution with signs that warned of 9/11 and 7/7 repeats, praise of the 9/11 hijackers and other such as these:
'Massacre those who insult Islam'
'Europe you will pay'
'Europe you'll come crawling when Mujahideen come roaring'
Did British officials cave to pressure from the extremists? This man was fined less money than the court costs... What happened to the Tony Blair that said "Their barbarism shall stand as their shame"?!