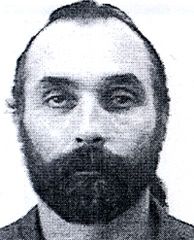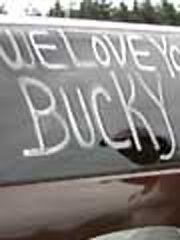 On April 2nd Ralph "Bucky" Phillips escaped from jail (just four days before he was to be released). He was originally incarcerated for beating and threatening his own daughter, burglary, car theft and stalking. After his April prison escape he was pulled over by two State Police and fired shots seriously wounding one of the officers. He is still at large somewhere in New York state--where the odd people there have made him a bit of a celebrity...
"...There are some sympathetic to the fugitive, though perhaps not as many as indicated in some local media reports. Count Bob Ferguson, who lives in Dunkirk and regularly camps within the search area, among the supportive.
"I think it's funny. Here you've got hundreds of cops and they can't catch one guy. Every few hundred feet there's a trooper. Taxpayers' money is being wasted. They should go right into the woods and hunt him down."
And if Phillips turned up in his garage?
"I'll give him a sandwich and a beer," Ferguson said. "Go, Bucky, go!"
Another reservation store was sold out of "Run, Bucky, Run" T-shirts. Another, with a decidedly different perspective, carried the same words, but with an ominous subtitle: "We like a moving target."
The online outlet offered more neutral slogans: "Where's Bucky?" "Got Bucky?" and "Bucky Went That Way," accompanied by an arrow pointing both left and right. Over the weekend, ongoing hype spurred two new entries: "I Saw Bucky" and "Bucky Hunter." The thong apparently contains only enough material for a simple "Bucky?"
Lori Zandrowicz, the owner of Grandma's Kitchen, bristled at criticism of the Bucky Burger.
"They say, 'How can you profit from that?' I say, 'Did you see the price?'" she said, pointing at a chalkboard spelling out the anagram (Bacon Under Cheese with Ketchup and Yellow mustard) and the cost -- $3.99, with fries..." (
source
)
I really don't get that mentality... rooting for the criminal over the cops? Why? What goes on in their heads?: Cool, he beat his daughter, stalked his girlfriends and shot a cop...hope he stays a free man! yeah!
What idiots...