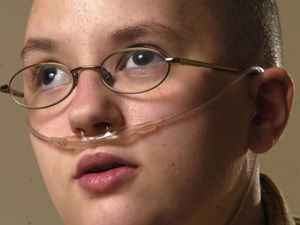 Ahhh...the welfare state gone wild! I can't believe someone (namely 27 year old Cassey Weierbach) would fake having AIDS to get paid. Is 'Generation Y' that opposed to
actually
working? Way to hurt the cause girl!
"...A woman who traveled the lecture circuit with her account of being raped and infected with AIDS as a child has been charged with defrauding the state of Pennsylvania of $66,000 by falsely claiming to have the disease.
Cassey Weierbach, 27, was arraigned Friday on charges of theft by deception, forgery, tampering with records and making false statements.
She has told her story for years to news reporters, churches, youth groups and medical conferences. But in June, The Morning Call newspaper of Allentown published a story in which a pastor accused Weierbach of duping her congregation....
...Arrest records state that Weierbach used fabricated laboratory records to indicate she had AIDS so she could receive medical benefits in 2003.
She also provided false information in 2004 and 2005 to at least three area doctors, one of whom became suspicious after Weierbach refused AIDS medications, according to an affidavit." (
source
)
Speaking of lazy, freeloading Generation Y-- there IS something that Hillary and I completely agree on...
"...Sen. Hillary Rodham Clinton lashed out at the instant-gratification generation yesterday, saying young adults "think work is a four-letter word."
"Kids, for whatever reason, think they're entitled to go right to the top with $50,000 or $75,000 jobs when they have not done anything to earn their way up," the Dems' 2008 White House front-runner said.
"A lot of kids don't know what work is. They think work is a four-letter word." (
source
)