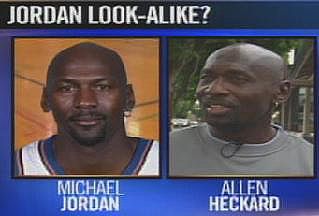 A man is suing Michael Jordan and Nike for $416 million... Ready for this? Because of the "pain and suffering" he has experienced being mistaken for Jordan for the past 15 years.
"I'm constantly being accused of looking like Michael and it makes it very uncomfortable for me," Allen Heckard said.
Heckard is suing Jordan for defamation and permanent injury and emotional pain and suffering. He's also suing Knight for defamation and permanent injury for promoting Jordan and making him one of the most recognized men in the world.
Nike and Jordan have yet to comment on the lawsuit." (
Read the whole story
)
What can I even add to that?