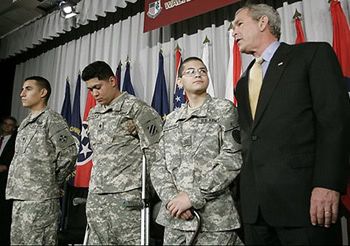 The "drive-by media" (word credit: Rush) would love to cast republicans, conservatives and libertarians as racists who don't want foreigners coming to the US. This is their way of vote-grabbing and issue-dodging (we might actually be able to have a national health Care plan with all the money spent on medical care/court costs/jail for illegals). In reality the issue is not about immigration at all, but ILLEGAL immigration.
LEGAL immigration is a wonderful thing...
"...Army Spc. Lito Santos-Dilone was injured while serving as part of the protection detail in Iraq. "I first met Specialist Santos-Dilone at this year's National Hispanic Prayer Breakfast," President Bush said. "I was working the rope line. He grabbed my hand, and he said, 'I'm not a citizen of the United States and I want to be one.' Now, here's a man who knows how to take it directly to the top. I'm proud to be here when he gets sworn in.
There are more than 33,000 non-U.S. citizens serving in the U.S. military. "Just like everybody else who wears the uniform, they understand the stakes of what it means to serve in the United States military, particularly after Sept. 11, 2001," Bush said. "After that date, I signed an executive order making foreign-born members of our military immediately eligible for U.S. citizenship when they serve on active duty. It made sense to me. If somebody is willing to risk their life for our country, they ought to be full participants in our country." (
source
)
Spc. Lito Santos-Dilone was one of three OIF veterans that were granted citizenship yesterday. Army Spc. Sergio Lopez and Army Pfc. Eduardo Leal-Cardenas were the other two. I welcome all three with open arms.