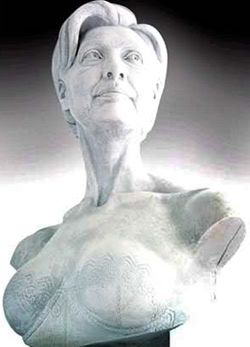 Since I am assuming that sculptor Daniel Edwards meant his most famous-to-date piece
"Monument to Pro-Life: The Birth of Sean Preston"
to be a tongue-in-cheek jab at right-to-lifers…I am wondering where he is going with his new sculpture of Hillary Rodham Clinton...
"Edwards says the bust captures the senator, ""with her head held high, a youthful spirit and a face matured by wisdom. Presented in a low cut gown, her cleavage is on display prominently portraying sexual power which some people still consider too threatening."
The bust, set atop a pedestal inscribed with the presidential seal and carrying the title "The First Woman President of the United States of America," was created in response to a remark made by Sharon Stone earlier this year.
In March, the actress said it was too soon for the junior senator to run on the 2008 presidential ticket because, "a woman should be past her sexuality when she runs. Hillary still has sexual power and I don't think people will accept that. It's too threatening."
Edwards apparently begs to differ Ms. Stone." (
source
)
Being perfectly honest, I don't think of Hillary as a sexual being at all. In fact I had to Google "Hillary Clinton + gown" to see if she really had breasts like that. She doesn't. I do think of her as a strong, driven woman --but Hillary and sexual creature never really happened during word association... (especially after reading she had to be told to shave her pits and wash her hair by handlers in Clinton's first campaign). I guess she's come a long way baby.